There are Fan Games base of Douglas TenNapel Game Series of Earthworm Jim created by Digital Game Artists seem to capture it and May find in site to down Load to Play Free or may they maybe still in progress very slowly.
Earthworm Jim Fan Game Still In Progress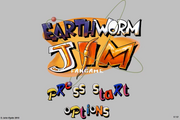 Earthworm Jim: Rewormed Made by MrmediamanX of 3MX DIGITAL GAMES in 2015 [[1]]
Ad blocker interference detected!
Wikia is a free-to-use site that makes money from advertising. We have a modified experience for viewers using ad blockers

Wikia is not accessible if you've made further modifications. Remove the custom ad blocker rule(s) and the page will load as expected.