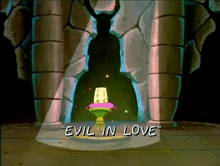 Evil in Love is the eighteenth episode of Earthworm Jim, and the fifth episode of season two.
It originally broadcasted on October 26, 1996.
Summary
Evil the Cat falls in love and teams up with Malice The Dog. Malice uses her powers to trap Jim, Peter, and Princess What's-Her-Name in a nightmare realm where they end up contending with the Lord of Nightmares.
Synopsis
Characters
Locations
Gallery
For a full gallery of "Evil in Love", click here.
Transcript
For a full transcript of "Evil in Love", click here.
Trivia
Quotes
Video
Ad blocker interference detected!
Wikia is a free-to-use site that makes money from advertising. We have a modified experience for viewers using ad blockers

Wikia is not accessible if you've made further modifications. Remove the custom ad blocker rule(s) and the page will load as expected.