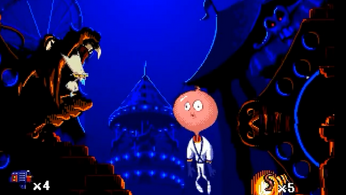 Flagitious is the cousin of the foul feline Evil the Cat.
Flagitious is the proud owner of The Circus of Scars, which Earthworm Jim visits in Inflated Head, one of the levels of Earthworm Jim 2. Flagitious will try to stop Jim as he attempts to escape the circus, firing what appear to be spitballs or tacks at his head through a straw. He will continue to pursue Jim by popping out of the mouths of dragon-like statues on the park monuments bordering the screen.
This is his only real appearance in the series, other than being mentioned by Evil in the cartoon series. Evil said that when the long summers on Heck became too much to bear, that he would leave on occasion and generally have Flagitious watch over it for him.
Trivia
The game manuals of Earthworm Jim 2 contradict the in-game information, suggesting that the enemy encountered in "Inflated Head" is actually Evil the Cat himself, and not his cousin Flagitious, who was running Heck in return. With Evil and Flagitious being identical in appearance, it is unclear either way.
His name is sometimes alternatively spelled Flatigious.
Ad blocker interference detected!
Wikia is a free-to-use site that makes money from advertising. We have a modified experience for viewers using ad blockers

Wikia is not accessible if you've made further modifications. Remove the custom ad blocker rule(s) and the page will load as expected.