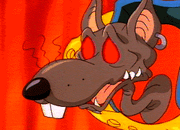 Henchrat is an enemy of Earthworm Jim, and is a large, mutated rat with glowing red eyes, often wearing bulky armor, and in the service of Evil the Cat.
Appearances
Henchrat did not appear in the earlier video games, where Evil the Cat has the Shadow Demons and Lawyers of Heck as minions.
Henchrat was created for the animated television series. In the cartoon, Henchrat is voiced by John Kassir and serves as Evil the Cat's "mindless rodent lackey" (as Evil often calls him).
Henchrat made his first game appearance in the later game Earthworm Jim: Menace 2 the Galaxy as Evil the Cat's partner during a boss fight. This is similar to Evil Jim, who was also created for the cartoon, but also appeared in Earthworm Jim: Menace 2 the Galaxy.
A Henchrat action figure was also included in the toy line.
Personality
Contrary to his savage occupation, Henchrat likes to watch mimes, takes self-actualization courses, and hopes to one day open a macramé shop. He always responds to Evil's abuse by saying "Thank you".
Gallery
Ad blocker interference detected!
Wikia is a free-to-use site that makes money from advertising. We have a modified experience for viewers using ad blockers

Wikia is not accessible if you've made further modifications. Remove the custom ad blocker rule(s) and the page will load as expected.