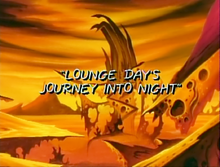 Lounge Day's Journey Into Night is the twenty-first episode of Earthworm Jim, and the eighth episode of season two.
It was originally broadcasted on November 16, 1996.
Summary
Jim and Peter switch roles as hero and sidekick, while Evil the Cat tries to destroy the universe by making a pair of dime-store lounge singers sing a cursed song.
Synopsis
Characters
Locations
Gallery
Transcript
For a full transcript of "Lounge Day's Journey Into Night", click here.
Trivia
Quotes
Video
Ad blocker interference detected!
Wikia is a free-to-use site that makes money from advertising. We have a modified experience for viewers using ad blockers

Wikia is not accessible if you've made further modifications. Remove the custom ad blocker rule(s) and the page will load as expected.