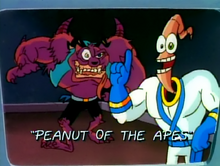 Peanut of the Apes is the twentieth episode of Earthworm Jim, and the seventh episode in season two.
It was originally broadcast on November 9, 1996.
Summary
Professor Monkey-For-A-Head tries to turn everyone on earth into apes while Jim tries to introduce "viewer interactivity" on the show.
Synopsis
Gallery
To see a gallery of "Peanut of the Apes", click here.
Transcript
To see a transcript of "Peanut of the Apes", click here.
Trivia
Quotes
Video
Ad blocker interference detected!
Wikia is a free-to-use site that makes money from advertising. We have a modified experience for viewers using ad blockers

Wikia is not accessible if you've made further modifications. Remove the custom ad blocker rule(s) and the page will load as expected.