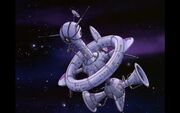 Professor Monkey-For-A-Head's Laboratory is a giant space habitat, and the lair of the Galactic evil genius Professor Monkey-For-A-Head. It is also the dwelling place of his numerous failed experiments, and where his only genuinely good contraption, the Super Suit, was created.
The interior of the laboratory was used for "Level 5" in the original Earthworm Jim video game.
It was also featured in the animated television series, where the laboratory was seen from the exterior for the first time.
Ad blocker interference detected!
Wikia is a free-to-use site that makes money from advertising. We have a modified experience for viewers using ad blockers

Wikia is not accessible if you've made further modifications. Remove the custom ad blocker rule(s) and the page will load as expected.