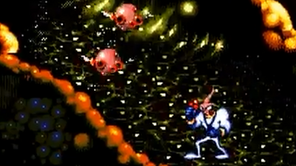 Small Guts (or Small Gutballs), as they are commonly called, are not necessarily a "gut", but more of a cell of some sort. They appear only in the level Intestinal Distress in the game Earthworm Jim. They resemble pink balls with red-brimmed holes all around them. They are more common than most enemies, except for Flying Fish. They pose little threat to Jim, and are very weak. They almost always appear in pairs.
Trivia
Ad blocker interference detected!
Wikia is a free-to-use site that makes money from advertising. We have a modified experience for viewers using ad blockers

Wikia is not accessible if you've made further modifications. Remove the custom ad blocker rule(s) and the page will load as expected.