The Archbug is Queen Slug-for-a-Butt 's Royal Adviser of Insectika and the palace's Looney.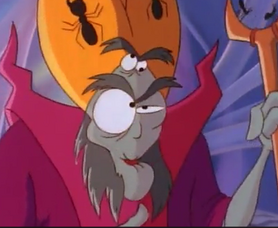 He only appeared in two episodes, "Queen What's-Her-Name" and "For Whom the Jingle Bell Tolls".
Triva
The Archbug was voiced by Danny Mann. You can tell by the tone that he used on voicing other characters, such as Ash from "Ferngully: The Last Rainforest" and J. Gander Hooter" from "Darkwing Duck".
Ad blocker interference detected!
Wikia is a free-to-use site that makes money from advertising. We have a modified experience for viewers using ad blockers

Wikia is not accessible if you've made further modifications. Remove the custom ad blocker rule(s) and the page will load as expected.