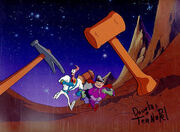 The Planet of Enormous Hammers is a location in the Earthworm Jim animated television series. It appears in the pilot episode, "Sidekicked".
Earthworm Jim came here looking for Psy-Crow, who had once again kidnapped Princess What's-Her-Name. Since Jim had fired Peter Puppy, Jim was accompanied by Captain Cabbage, who met his end on the planet. Squished by a giant hammer, Jim remarked "eww, coleslaw!"
Ad blocker interference detected!
Wikia is a free-to-use site that makes money from advertising. We have a modified experience for viewers using ad blockers

Wikia is not accessible if you've made further modifications. Remove the custom ad blocker rule(s) and the page will load as expected.